A Wesak Full Moon Experience
Lakeside, Michigan
May 17-19, 2019
During this Weekend Retreat, you will experience the most powerful full moon energy of the year . You will take a guided journey along exciting paths of higher consciousness, healing and connection. Through a balance of meditation, energy healing and interactive workshops, we will take care of the agenda so you may focus on connection. Learn how to harness energy to increase intuition, facilitate healing, manifest goals and bring more joy into life!
Wesak is a unique and powerful spiritual event that only occurs once a year. It is regarded as the most powerful Full Moon of the year. It is a time of great opportunity to actively participate in a sacred event that showers Mother Earth and all of her inhabitants with immense amounts of energy and blessings. As we bless the Earth, we too are immersed in that downpour of Divine Energy.
---
Retreat Package: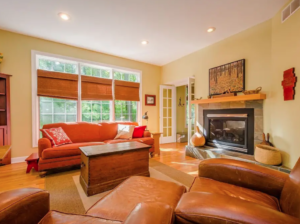 2 Nights Accommodations
Vegetarian Meals, Snacks & Drinks
Group Healing Sessions
Fire Ceremony
Full Moon Manifestation Work
Holographic Memory Resolution
Cozy Meditation Room  
Crystal Healing Session  
Ancestral Healing Prayer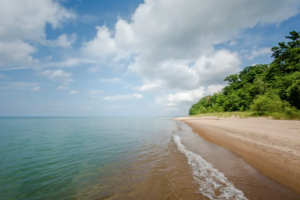 Group Spirit Rebuilder Session 
Morning Beach Hike 
Guided Meditations 
Crystal Singing Bowl Soundbath
Tarot Readings
Group Reiki 
---
Accommodations:
The updated, retreat compound is nestled in tranquil Lakeside, MI.  The house is peaceful and spacious for a relaxing retreat with all modern amenities included. 
---
Pricing & Options
RETREAT PRICING:
---
BEDROOM 1:
 
Queen Bed sleeps two
$850 Room
BOOKED!
---
BEDROOM 2:
Single Beds sleeps two
$575 Single
BOOKED!
---
BEDROOM 3:
Single Beds sleeps two
$575 Single
Bring a Friend and Save 5% Each
---
BEDROOM 4: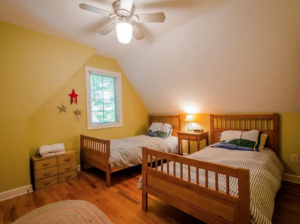 Single Beds sleeps two
$575 Single 
Bring a Friend and Save 5% Each
---
Check-In & Information:
-Check-in on Friday, May 17th is from 4:30 PM
-Check-out on Sunday, May 19th is 11:00 AM
Cancellation Policy:  A 50% refund will be granted if cancellation is received at least 45 days prior to the start date of the trip. No refund for any cancellation made less than 45 days from start date of trip.
---
Meet your hosts…
Heather Fox is a certified Reiki Master Teacher in the both the traditional Usui System of Natural Healing and Karuna Reiki®. She has studied,  practiced and taught Reiki and energy work throughout the United States, concentrating on Los Angeles and Chicago. Heather is also a certified Pranic Healer®, Angel Intuitive® and Holographic Memory Resolution Practitioner®. 
"My journey into Energy, Meditation and Healing began while I was working in the event industry, and taught me how to deepen my awareness and live in the present moment. I spent years diving into spiritual education, receiving energy work and practicing meditation. I was fortunate to study with incredible teachers, masters and gurus to help me on my path of becoming a teacher and energy healer. My goal is to help you transform your life too. In mind, body and soul, so you may live your most authentic life."
– Heather
Andrea has truly devoted herself to helping others heal and grow spiritually. She is a member of the Theosophical Society and a member of the International Association of Reiki Professionals (IARP). She is the founder of Spirit Rebuilder®, a healing technique, to assist people in their journey to achieving their soul's higher purpose. Her technique is based on the belief that profound advances can be made by first identifying and then addressing the very root of any and all circumstances that burden the soul's essence. Andrea is also founder of Golden Star Healing ® and the Ancestral Healing Technique ® .
A true student of learning Andrea has studied many forms of healing. She has studies with some of the best teachers in their respective fields. Andrea is a Reiki Master Teacher in the traditional Usui System of Healing with Bernadette Doran and has studied with William Lee Rand to become a Karuna Reiki® Master teacher. She completed her Akashic Records training with Linda Howe and Christina Cross of The Linda Howe Center for Energy Integrity. Crystal Healing with healer and author, Dawn Silver. Andrea trained with Doreen Virtue to be an Angel Intuitive. She continues her Shamanic apprenticeship under Claudia Arredia, pipe carrier and peace chief of White Horse Band and Debbie Springsteen, pipe carrier and a White Horse Band lieutenant. Andrea has taken Tibetan healing practices with Lama Surya Das. Tibetan Bowl Sound Healing with Diane Mandle. Andrea is a master of Hawaiian Energetics, which she has studied with Kumu Ed Kaleolani Spencer. She is also a level two practitioner of Holographic Memory Resolution®, which she studied with Brent Baum. Andrea has completed all classes offered in Pranic Healing with Masters Co, Mendoza and Ramos. Continues her studies in Arhatic Yoga. Andrea is a teacher in training under Paulie Zink, for the study of Yin Yoga.